Macbeth at Fort Point, 2013
"Blood will have blood"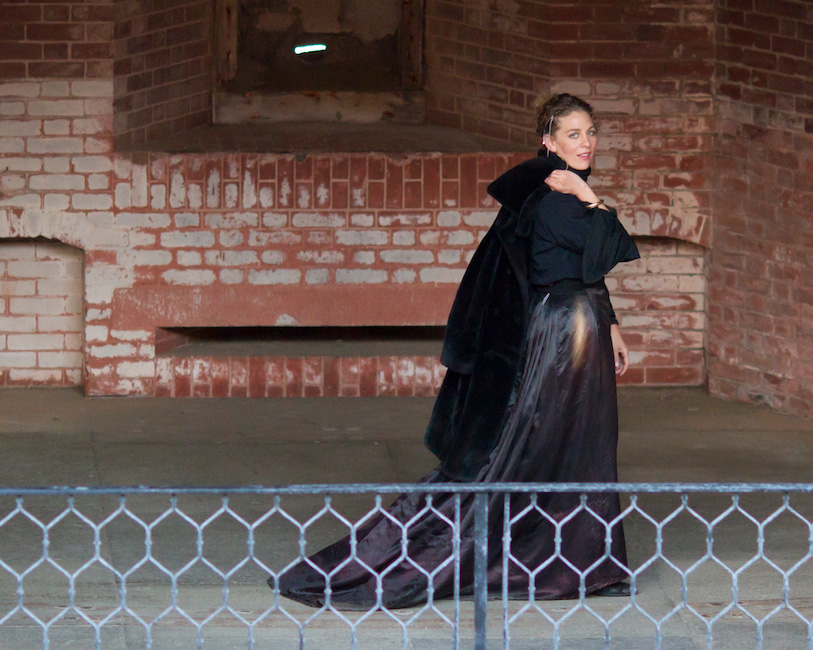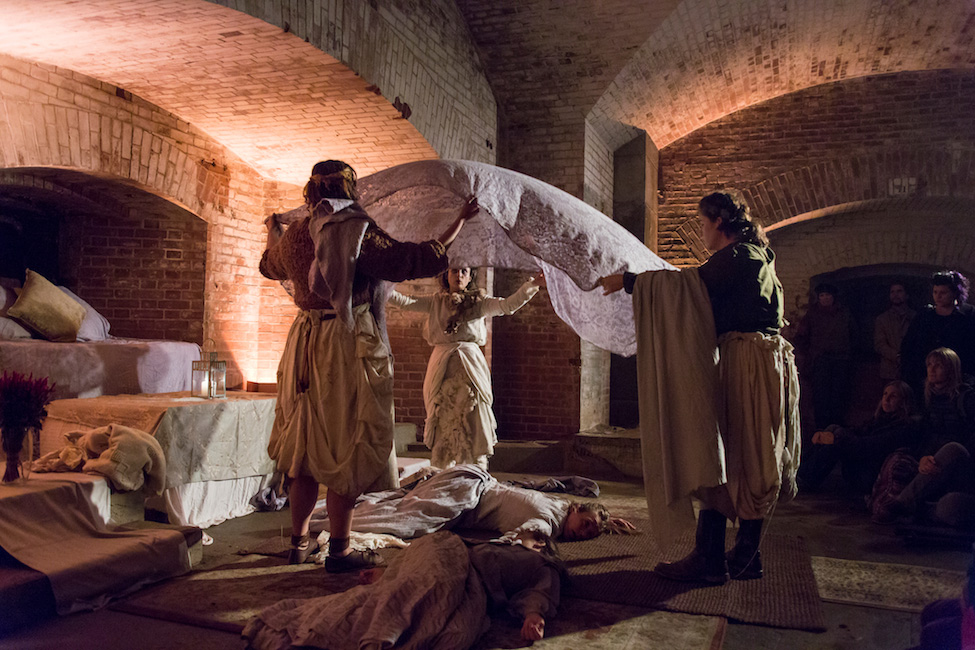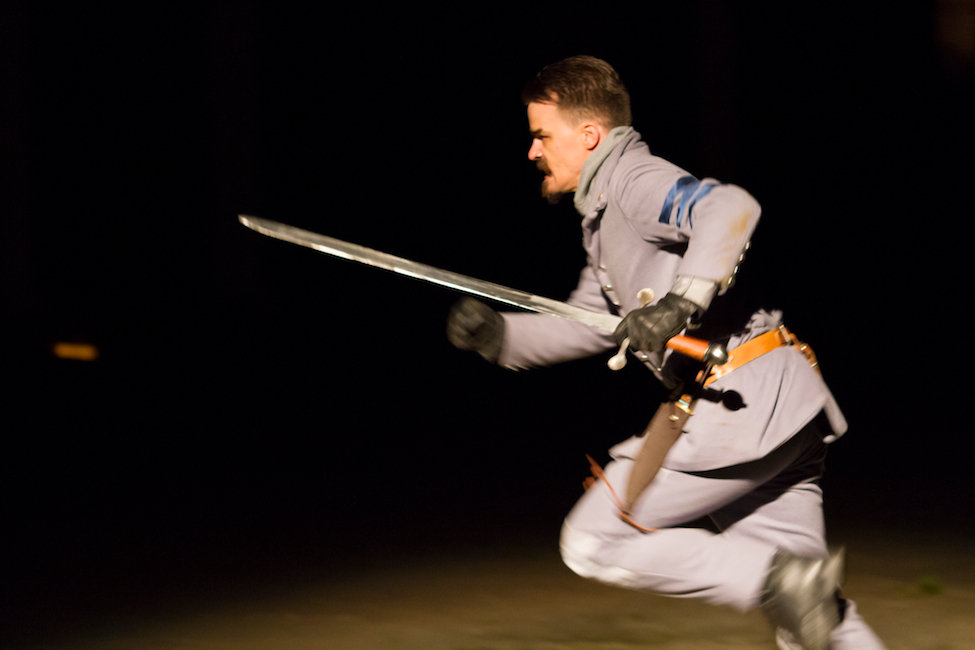 More Macbeth at Fort Point 2013 photos ○
More Macbeth at Fort Point 2013 videos ►
Multiple performance trajectories wind through the dark stone corridors, narrow passageways, expansive brick casemates, and inner chambers of the fort. On the parade ground, in the direct onslaught of the billowing fog and relentless wind, the witches work their charms. The Golden Gate bridge soars overhead, the city skyline flickers – a full sensory immersion into Macbeth's Scotland as it collides with Civil War era and modern day San Francisco. In collaboration with the National Park Service.
Macbeth at Fort Point
By William Shakespeare
Directors: Ava Roy & John Hadden
+ The Buzz
Reviews:
Kristin Farr, The Government Shuts Down Art in San Francisco, KQED, October 11th, 2013.
Liz Halloran, Trickle-Down Stories: How The Shutdown Feels Across America, National Public Radio, October 11th, 2013.
Vivian Ho, Shutdown may mean 'Macbeth's' last hour upon the stage, San Francisco Chronicle, October 4, 2013
Audience Testimonials
"Total immersion experience – in that environment one engaged with the story physically, emotionally, mentally – and understood it physically, emotionally, mentally. Immersive and enveloping." Gyongy Laky – audience member
"I left last night having not only had an intimate experience with the play but also with the place. When I think on Macbeth now (a play I've studied deeply and seen much) it'll be as one remembers a dream; an experience I felt viscerally, something that happened to me. When I think on the Fort, it'll be like recounting one of those shocking childhood memories in the house you grew up in… An incredible, seriously ambitious undertaking, so well-executed." Liz Capron
"I'm trying to think of any theater I've seen that has affected me as much as your Macbeth. But I can't. It was the most exquisite performance I've experienced." Monica Lundy
"I had no trouble imagining myself wandering the halls of a dark Scottish castle. It was colossal and yet inhabited." Nick Trengove
"It is an engrossing production and a great accomplishment. The witches were marvelous: compelling, magical, beautiful, frightening. The use of space(s) ingenious and effective." Michael Moerman
"The performances, the costumes and your amazing sense of space made for another unforgettable and stunning adventure! The banquet scene in particular will stay with me." Megan Clark
+ The Cast
Macbeth: Mackenszie Drae
Lady Macbeth: Ava Roy
Weyard Sisters: Julie Douglas, Maria Leigh, Caroline Parsons
Duncan/Porter: Steve Boss
Macduff: Benjamin Stowe
Malcome: James Udom
Ross: Brian Smick
Lady Macduff: Lauren D. Chavez
Fleance/Macduff Child: Mae Capron & Lila Popell (played alternately)
Bloody Captain/Banquo: Nikolas Strubbe
Murderer: Rachel Berquist
Captain Lenox: Jennie Brick
Captain Caithnes: Ruth Tringham
Sergeant Butler & Sergeant Train: Ben Capron, Monica Herbert, Lauren Matley, Rebecca Popell, Connor Rowe
The Musicians
Jamie Dubberly
Jeanne Geiger
Nick Fishman
Henry Hung
Teddy Raven
Marcus Stephens
+ The Production Team
Directors: Ava Roy & John Hadden
Producers: Lauren D. Chavez & Ava Roy
Costume Designer: Julia Rose Meeks
Lighting Designers: Joe D'Emilio & Joey Postil
Composer: Charlie Gurke
House & Hospitality Manager: Frieda de Lackner
Fight Choreographer: Benjamin Stowe
Stage Manager: Laraine Gurke
Production Assistant: Briana Dickinson
Stylist: Laura Duldner
Properties & Set Artisan: Rachel Berquist
Production Assistant: Allison Hargrove
Leatherwork: Foremast Jack
Wardrobe Assistant: Phoebe Martel
Wardrobe Assistant: Caroline Moore
Photographers: Mark Kitaoka & Tracy Martin
Poster & Postcard Graphic Design: James Tucker
Program Design: Samuel Bertken
+ Related Programming
History's Mortar: site-integrated visual artworks curated by Patrick Gillespie
Visual Artists: Torreya Cummings, Matt Gordon, Monica Lundy & Brandon Walls Olsen